Denver K9 Bed Bug Detection Team
About Amy
Amy is the handler responsible for our bed bug dog, Tracker, and she is a Colorado native. She grew up in Colorado Springs, then moved to Greeley to earn both her Bachelor's and Master's Degrees from the University of Northern Colorado. Currently, she lives in Northglenn with her husband, two children, and various pets. Amy has loved animals (especially dogs) from a young age. She became interested in bed bug detection dogs after her husband started a pest control company. Becoming a handler to a detection K9 blends her desire to help people and work with animals.
About Tracker
Tracker our bed bug dog! He is a Beagle who was extensively trained in Hesperia, California by animal trainer Stephanie Taunton. After passing his scent detection training, Amy traveled to California and spent a week in training with Tracker. She was immediately blown away by his intelligence, dedication to working, and accuracy with finding bed bugs. His big floppy ears and spunky personality helped too! Tracker loves his Colorado life. When he isn't working, he can be found playing with his brother dogs, his two children companions, camping, or sniffing out treats!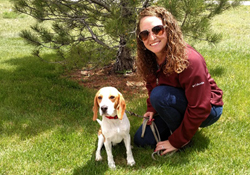 Amy and Tracker
About Robin
Robin is a retired public school administrator and teacher. She grew up overseas as the daughter of an Army Service man in Taiwan, Germany, and graduated from high school in Okinawa, Japan. She then went on to the University of Northern Colorado to get her BA in Physical Education and play soccer as a UNC Bear. After 10 years of teaching, Robin attended Lesley College to attain her masters degree in school administration. After 30 years of public service, Robin is a natural fit for Advanced K9 Bed Bug Seekers and is enjoying working with Tracker and Scout to make our community a more comfortable place to live.
Robin and Scout
About Scout
Scout is the second certified bed bug detection dog! He joined the team in January of 2019 following his extensive training in Hesperia, California. Scout is a Springer Spaniel with a personality all his own! He loves to work and will do just about anything to make "his people" happy. His nose has proven to be incredibly accurate at finding bed bugs. He also loves scouting out rabbits and squirrels. Scout's favorite thing to do after a long day of work is snuggle up on the couch.
Scout Hard At Work
About Pam
Pam is a Colorado native who enjoys spending time with her family and her dogs in the great outdoors. She has a background in scent detection from her training and working with dogs for Urban Search and Rescue. She is a full time firefighter who spends some of her days off with Tracker and Scout further serving the community by helping to combat the bed bug issues.
How We Train